Pompoms are delightful accessories that add a bit of fun to whatever they are placed on: hats, headbands and even home décor. Set aside some crafting time this weekend so that you can make one or more of these five homemade pompom crafts.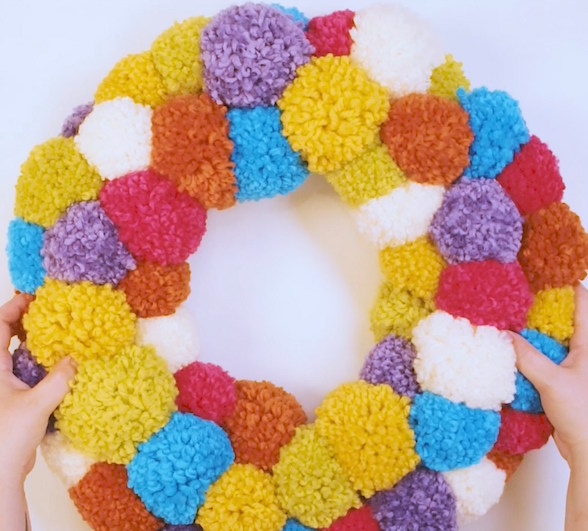 Pompom Wreath
You will need a small handful of crafting tools for this wonderful project: a Styrofoam wreath, scissors, Bernat Softee Chunky yarn, and the Boye Pompom and Tassel Maker. You need to use a thick and bulky yarn instead of a finer material, because you want the pompoms to be as full and fluffy as possible. If you don't have any of these materials, they are all available at www.yarnspirations.com to help you complete this project — they also have materials, templates, patterns and inspirational ideas for all of your other yarn-related creations. If you need more guidance on how to make a pompom wreath, you can visit the website's blog to watch the tutorial.
Pompom Bunny
A pompom bunny is an adorable gift for a small child — the soft yarn will make them want to hug and squeeze the toy all day. Use Caron Simply Soft yarn for this project, because it is incredibly lustrous and sensitive to the touch — it also comes in 52 different shades, so you can make a realistic white or brown bunny, or you can make it a fantastical blue or purple one.
Pompom Party Hat
These pompom hats are perfect for a child's birthday party or even for a New Year's Eve bash. For the hat, you will need a paper mache cone, a white elastic cord, paint for decorating and yarn for the pompom — if you can't find any white elastic cord, you can always use yarn to make the hat's chinstrap. Use contrasting colours for the hat and pompom so that the yarn really stands out, like a pale blue hat with a vibrant orange pompom.
Pompom Headband
This is also a wonderful idea for birthday parties and celebrations, especially for any teenagers or adults in attendance. For this craft you will need a headband, a pair of scissors, a glue gun, felt and lots of yarn — if you want a bright and vibrant headband, make sure to pick different yarn colours that pair well together.
Pompom Bookmark
You will only need to gather two supplies for this project: scissors and lots of yarn, depending on how many bookmarks you want to make. To make your shelf really festive, you can make bookmarks in different colours and arrange the books in a pleasing pattern — you could do a series of black and white pompoms, or even turn a row into a beautiful pompom rainbow.
With a little bit of effort and know-how, you can add some colour to your door with a pompom wreath, some brightness on your bookshelf with pompom bookmarks or to the top of your head with a pompom crown. You can even make a little kid's day by giving them a fabulous party hat or a new rabbit to play with. You only need some good-quality yarn and a handful of helpful materials to make some truly fantastic pompom creations.